Poona College of Pharmacy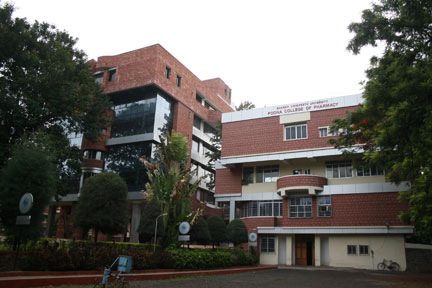 There was no Pharmacy College in this region till 1981 and Dr. Patangrao Kadam, Founder of Bharati Vidyapeeth, realising the need for training the students in Pharmaceutical Sciences established Poona College of Pharmacy in 1981. Thus this college is the pioneering pharmacy institute in this region. With a person like Dr.Shivajirao Kadam who is a very dynamic man with a great academic commitment and orientation at the helm of affairs, as its first Principal for 25 years, this College has now come to be known as one of the best Pharmacy Colleges in the country for its academic excellence.

Poona College of Pharmacy was earlier permanently affiliated to University of Pune. It is now a constituent unit of Bharati Vidyapeeth (Deemed to be University). It is a grant-in-aid institute, conducting Graduate, Post-graduate and Doctoral programmes in Pharmaceutical Sciences.

The College has been granted approval by the All India Council for Technical Education, New Delhi, which is the apex body controlling technical and professional education in the country. The College has also been recognized by the University Grants Commission under Sections 2(f) and 12 (B) of its Act.The College and its degrees are also approved by the Pharmacy Council of India, New Delhi. Recognition by all the three apex bodies bear a testimony to a very high level of academic excellence the college has achieved.

Earlier there was no separate Faculty of Pharmaceutical Sciences in University of Pune. Dr. Shivajirao Kadam, Vice-Chancellor of Bharati Vidyapeeth (Deemed to be University) and our former Principal, took a great deal of initiative and interest in creating a separate Faculty of Pharmaceutical Sciences in University of Pune in response to the growing importance of Pharmacy education. It is because of his efforts, a separate Faculty of Pharmaceutical Sciences was established in the University of Pune. Now a separate faculty of Pharmaceutical Sciences has been created in Bharati Vidyapeeth University also.

It is a matter of great joy for us to say that Poona College of Pharmacy celebrated it's Silver Jubilee year in 2006-07. Our college is probably the only college in the country to have been accredited from both NBA and NAAC and has got the coveted "A" Grade. It is also an ISO-9001-2008 certified institute. The UGC in recognition of our expert faculty, research achievements, high level of academic excellence and rich infrastructure has inducted us in the Departmental Research Scheme (DRS) of the Special Assistance Programme (SAP) of UGC. AICTE has granted us the status of Quality Improvement Cell (Q.I.P.) for teaching fraternity to register themselves for M.Pharm. and Ph.D. programmes. In addition we have been receiving grants from all the major funding agencies like AICTE, UGC, DST, DBT, DRDO etc.
Vision:
To be recognized as a premier pharmacy institution for excellence in education, research, innovation and leadership.

Mission Statement:
To produce competent pharmacist catering to the needs of Industry, Academia, Research and Society.
To create a centre of excellence for research and innovation in the field of pharmacy.
To contribute our humble share to address challenges in health care through collaborative ecosystem.