Facilities
Laboratories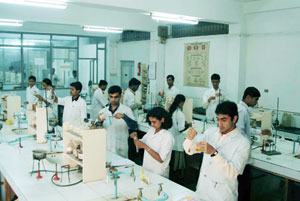 The College houses spaciously laid out, highly equipped and properly maintained laboratories for different branches of Pharmacy viz. Pharmaceutics, Pharmaceutical and Medicinal Chemistry, Pharmaceutical Analysis, Pharmacology, Pharmacognosy and Natural Products, Quality Assurance, Microbiology, Computer Education, Industrial Pharmacy, Tissue Culture, Computer Aided Drug Design and Polymer Research.We have provided separate laboratories for the post-graduate students of all the six branches viz. Pharmaceutics, Pharmaceutical Chemistry, Pharmacology, Pharmacognosy, Quality Assurance Techniques and Pharmacutical Biotechnology. All these laboratories have the necessary and latest instruments and equipments. The undergraduate students have been provided with separate laboratories which are also equipped with all the required instruments.

Our laboratories are equipped as comparable to the level of international standards and norms (and thus have set an example for others.) Separate analytical instrument rooms have been provided which house sophisticated and ultramodern instruments like UPLC Ultraviolet Spectrophotometer, Fourier Transform Infra Red Spectrophotometer, Atomic Absorption Spectrometer, Gas Chromatograph, High Performance Liquid Chromatograph, SCFC, TGA, PCR, Cryocentrifuge, High Performance Thin Layer Chromatograph, Differential Scanning Calorimeter, Spectrofluorimeter etc. Dissolution Test Apparatus, Ultrasonicator, Polarising Microscope, Homogenizer, stereomicroscope, Particle size analyser, Fermentor, CO2 incubators, Rheometer are available in the Pharmaceutics research laboratory. Pharmacology research laboratory has instruments like Plethysmometer, Analgesiometer, Polygraph while Pharmacognosy research laboratory has facilities for plant tissue culture, sohxlet extractors, etc. Rarely one would find such an updated and sophisticated equipments elsewhere in any other Pharmacy College. All these facilities have been created for the use of undergraduate as well as post-graduate students, research scholars and the faculty members.

Computer Facilities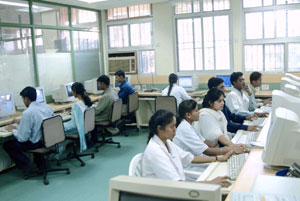 The use of computer has become inevitable in all the walks of life and so in our College we emphasize the computer training for our students in various ways. We have developed very good computer application laboratory and internet facilities. Our students can use sophisticated facilities such as Silicon Graphics for computer-aided drug design in their research.

Internet facility has been provided to the students in our computer laboratory where the students can online look for jobs/placements in India and abroad. It has also become very convenient way for them to search for admissions abroad or post-doctoral fellowships etc. through the internet. This facility helps our research students very much to undertake literature surveys for their dissertations work through the World Wide Web and the different search engines available for this purpose.

In addition, the new research wing has computer & internet facility on every floor of the building.